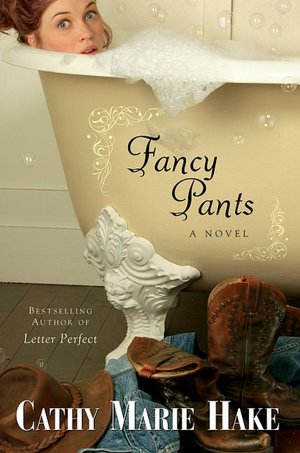 Every so often, I set aside my endless reading lists and just browse at the library for something new and different. This book caught my eye with the playful cover and title, and I was intrigued to flip to the back cover and learn more.
Fancy Pants, by Cathy Marie Hake, is the story of Sydney Hathwell, a young girl from Britain who is sent to America, after her parents pass away, to meet a man she's been arranged to marry. She finds him very distasteful and schemes up a plan to escape and meet her long lost uncle living in Texas.
The plan involves disguising herself as a boy because her uncle assumed she
was
a boy and told her he had no need for women on his ranch, but he could use a male hand.
In some ways, this tale reminds me of a classic Shakespeare comedy. A whole cast of fun characters. A tricky ruse involving cross-dressing, what else? A twist. A surprise love story and everything working out for the best in the end. The distinct good vs. bad characters.
The female lead is whip smart and full of tenaciousness and is fun to follow along on the adventure.
It inevitably has some interesting commentary on the roles of male and female, stereotypes, limits...etc. as Sydney challenges all of the cultural norms for her gender. Especially because it's all set back in 1890 and she's accustomed to civilized British society, not the new American frontier of the Wild West.
Overall, an entertaining, heartwarming story with a happy ending. I'd recommend it!
There was only one slight drawback. About 3/4 into the book, all of the sudden I noticed the author start to very blatantly insert the Gospel. It was so strange and out of place with the rest of the story I did a double take and did a little research on Hake. Sure enough, she's a Christian novelist. There's nothing wrong with being a Christian novelist, but I found it a little tacky to just all of the sudden start working in scriptures into your character's mouths, such as how to be saved, and how we're all sinners. Honestly, it was more odd than anything else. A little disappointing that a writer can't just
be a Christian, and write fun books
without trying to covertly "save people" while they're enjoying an otherwise perfectly good story. You know what I mean?
Suddenly Sydney needed to become a Christian and pray the prayer of salvation before the book could be over and have a happy ending, even though nothing in her character development up to that point made me feel like
she
would feel something was lacking, or that she was a sinner, or whatever.
It makes me wonder if Hake works that into every single one of her books...
Oh well, it still didn't ruin it for me.
Has anyone else ever suddenly found preaching in the middle of a story? It's awkward. But I suppose every author has a right to tell whatever story they want to tell!